the history of shona sculpture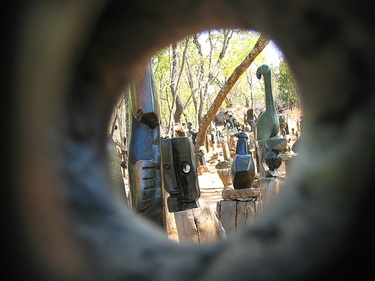 During the 1950's, the country then known as Southern Rhodesia developed their National gallery in the capital Salisbury, now Harare, to display a collection of western art. Frank McEwen, who was an established art critic and confident of Picasso, Matisse and Miro was the first and only choice for the position of curator of the newly established gallery. McEwen was intrigued, even before his appointment in Rhodesia, with the idea of introducing modern art forms to "primitive" sculptors.

After becoming the gallery's permanent director, he began workshops in which he taught painting and sculpture to native Rhodesians, including members of the largest tribe in, what is now known as Zimbabwe, the Shona. He taught the fundamentals of sculpturing, but did not influence them in the subject of their sculptures. Instead, he asked them to draw inspiration from their traditional folklore and mythical beliefs.

The result is an incredible array of styles and variations from the individual carvers' imagination. Today, there is also found, many carvers who specialise in "realism" sculptures, like busts of male and female and of animals.

The Shona artists use a wide range of stone. In the west, it is wrongly thought that soapstone, a soft, easy to carve stone, is only used. But many carvers use the much harder stones such as, opal stone, black iron serpentine, spring stone, cobalt and the semi-precious stone, verdite.

After carving the rough shape of their creation, the sculptor then uses a file to work the shape smoother until it's time to finish the surface with wet and dry sand paper. Once that process is completed, the carving is then placed in front of a fire to heat it, then, bees wax is applied to the hot surface. The heat allows the wax to penetrate the stone to bring out the features and colour. Once the sculpture has cooled, it is buffed to a high gloss by hand rubbing with a cloth.


---